Offering a personal shopper service is a great way to increase store traffic by providing experiences in store. It provides a great customer experience with at least a 90% conversion rate and a much higher average basket size.
This article will be focusing on setting up online booking for personal shopper appointments in store.
1. Get booxi account
If you already have a booxi account, click here to sign in.If not, you can sign up and enjoy a free trial. If you have multiple store locations, you can start your online booking with a selection of stores which can be grouped by regions.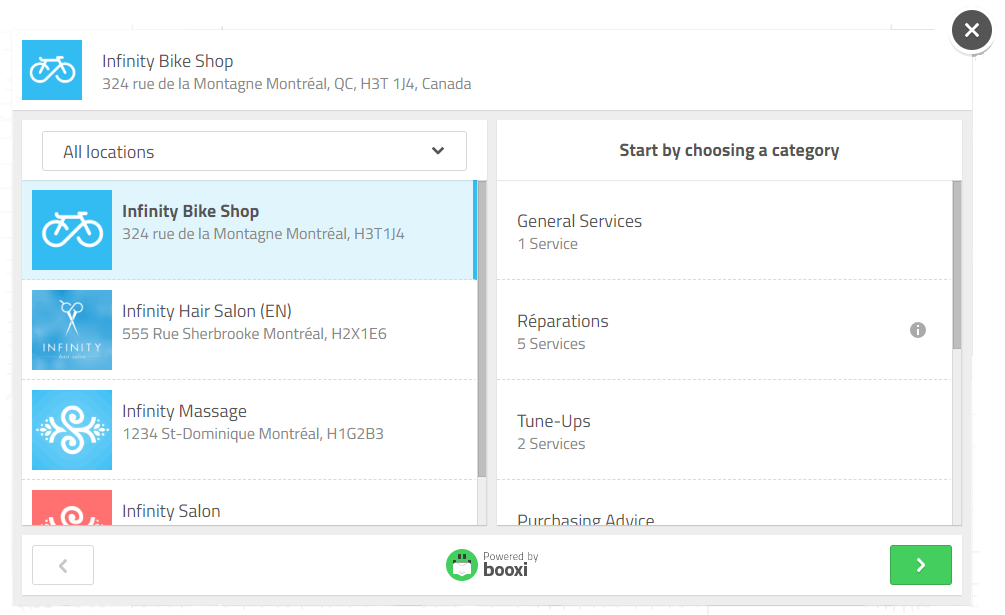 2. Create your appointment service
Create one on one appointment services to accept bookings for each experience you would like to offer your clients. Make sure to add some spacing between appointments.
Click on the

Service main section

Add a new service

(booking type

appointment with one client

) and edit the

details

Set a

duration

and add a

spacing

to block some extra time between appointments if needed

Set the

price

to free or uncheck display price to client

You may ask

questions

at booking to know more about what your customer is looking for.

Provide a marketing

description

at the bottom, which will be visible to the customer when booking online.

Click on

Save

at the top, and remember to turn your service online when everything is ready.

Booxi has the option of displaying all your personnel to the customer, which is a great solution when it comes down to choosing the right staff for the service, such as a stylist or a designer. If not, you can also remove that option and appointments will be automatically dispatched to the first available staff member.

To disable the personnel option at online booking, click on

Booking Rules

(from the service Summary)

Set the Online Personnel Selection to

No Personnel Selection

and set the Time Selection Mode to

automatic dispatch

.

Click on Save, and you're done.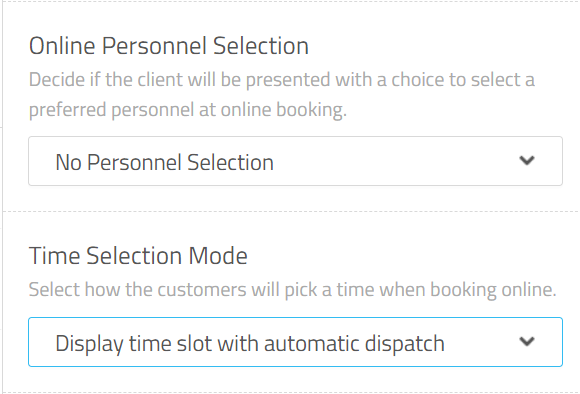 3. Set up your availability and booking capacity
Each personnel has a calendar of availability which determines your capacity, so 4 personnel calendars is a capacity of 4 appointments at a time. You can also set up your personnel according to their expertise and they will each be available for different services.
Click on the

Personnel

main section

Add a new personnel and edit the details if needed

Assign services to that person

Set a

Work Schedule

to determine the availability of that person

If you wish to share this personnel's calendar with other staff, you can change the sharing setting in the Booking Rules.
If your availability is based on resources such as cabins, you can create a personnel calendar per cabin, or use group reservation. Group reservation allows you to create time slots with a larger capacity.
You will need to create a service for group reservation to do this

Add a new group availability

Adjust the capacity if needed, and click Save

Copy that group, and paste through-out the day

Copy the whole day or week with when you right click on a day, paste in another day or week to rapidly build your schedule.
As customers begin to book, you will see appointments in your calendars or reservations in each scheduled group availability.
4. Integrate online booking to your website
You can easily integrate the online booking button and iframe to your website or on any landing page if that's easier. It is only a matter of copy/paste of a small javascript code.
It is recommended to add the online booking button to your homepage and in as many places as possible on your website. More visibility means more appointments, and therefore, more revenue for your business.
5. Prepare for your appointment
You and your employees can access the appointment calendar from anywhere and prepare for each appointment by looking at the booking survey answers.
Click on the

Calendar

main section, and select your calendar

Click on an appointment to view its

details

If a survey was filed, click on

Edit Survey

to review the answers
You can use booxi on a POS computer, tablet, or smartphone. You can also program booxi to send the daily appointment schedule to each personnel by email.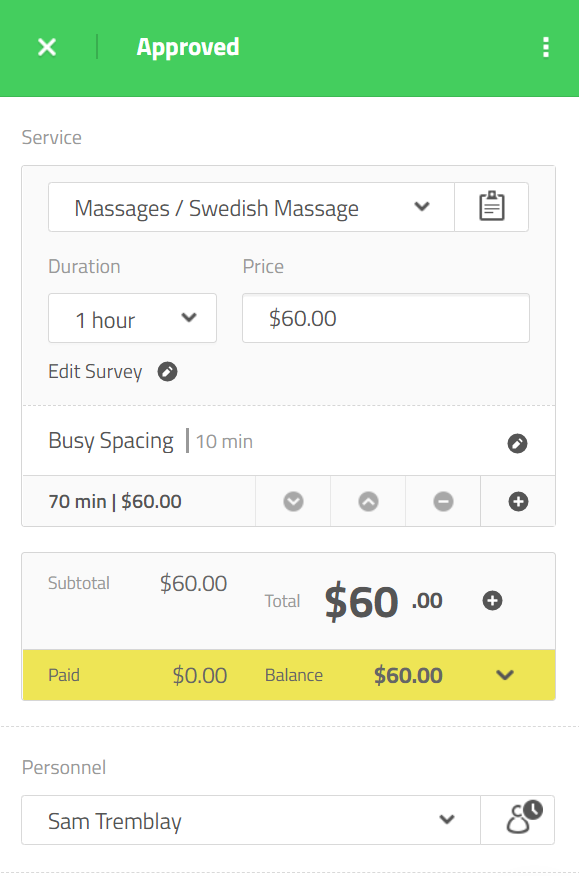 Customer Experience
Your customer will benefit from an amazing customer experience that begins from your website. This then leads to a great in-store experience with a dedicated associate who will help them make the right purchase, which inevitably leads to a bigger basket.